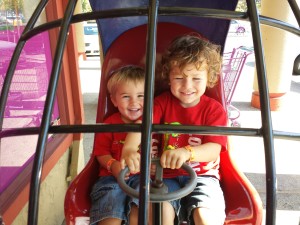 "A child won't remember what you taught them, they'll just remember how you made them feel."
Our mission at TINY FOOTPRINTS is to provide the highest quality of Early Childhood Education for the children in our care in a, safe, nurturing, fun, respectful environment so they can feely explore the world.
Tiny Footprints combines learning experiences and structured play in an organized, and nurturing environment, offering far more than just child care. This is the children's first introduction to a lifetime of learning, a journey that should start off on the right foot.  We help them fall in love with learning, by following the children's lead while offering them guidance, and letting them each grow, and learn at their own pace.
Our program promotes the physical, social, emotional and cognitive development of young children. We strive to continue to grow and evolve as the field of Early Childhood Education evolves. I am currently enrolled in various childhood education courses to continue and expand my knowledge in the field.
We are committed to the growth and development of our center as a place of research, as a community of learners and as developing future global citizens.  We offer a place where children are happy and relaxed, where there is freedom to play, to be, to learn, to grow. Within the facility there are many interesting things to do.
Studies by Maria Montessori and contemporary researchers support the notion that a child's first three years of life, and next three years of education outside the home, are the most important in shaping his or her personality and ability to learn. Children learn more during this period of time than at any other, and set important patterns for the future. Skills learned become the foundation that helps them grow in independence.
Practical Life teaches children to take care of themselves and their physical environment. They prepare their own snacks, learn to tie their own shoes and zip their jackets, and clean up after themselves. The desire of a child is "to do it myself." Practical Life activities are designed to allow them this independence. All of these activities take place in an environment that nurtures the whole child and supports their natural curiosity and love of learning.
The Importance of Family: It is crucial for the child that there be a parent-teacher partnership. At Tiny Footprints, we honor the bonds that you have with your small children. We are sensitive to individual separation patterns and are here to assist you and your child as they make the separation from home to child care.